24 Tarbet Street
24 Tarbet Street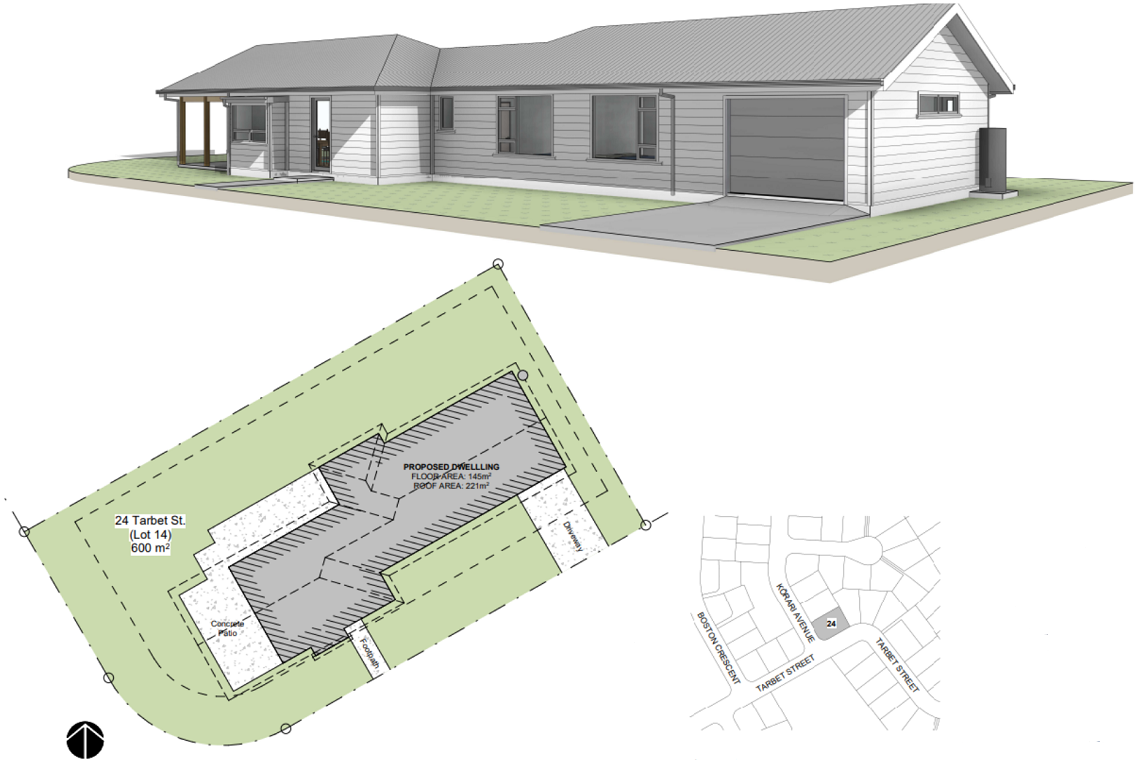 24 Tarbet Street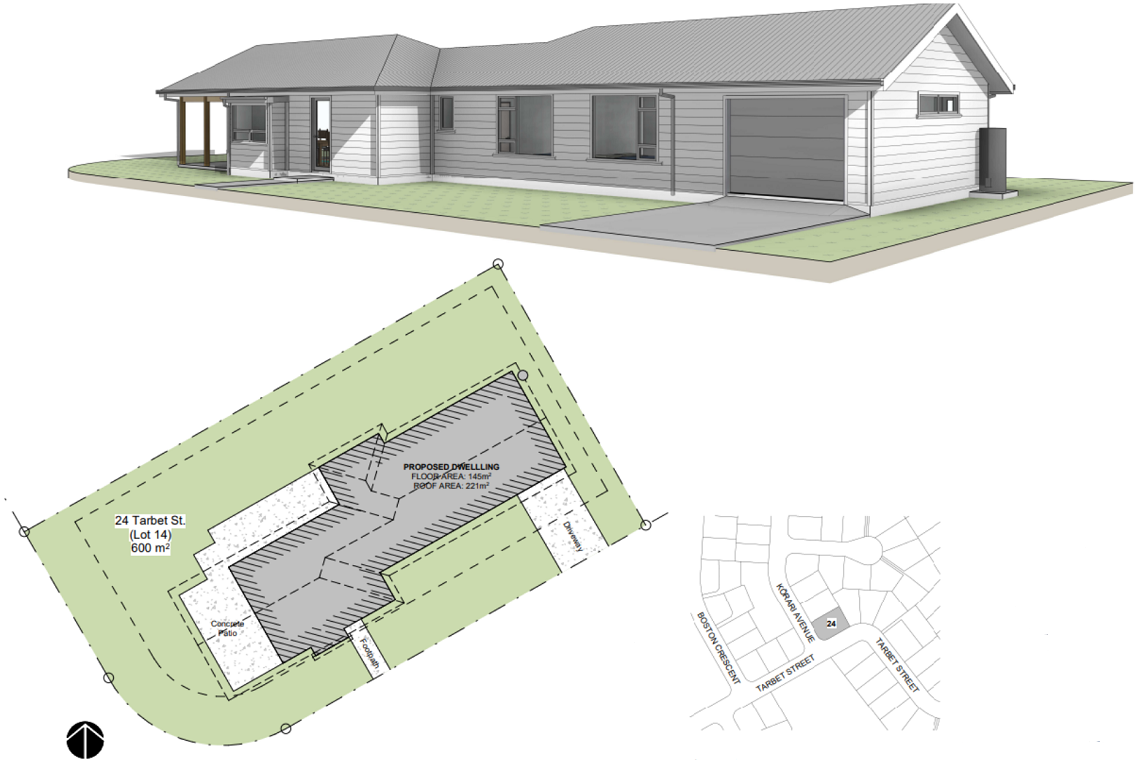 24 Tarbet Street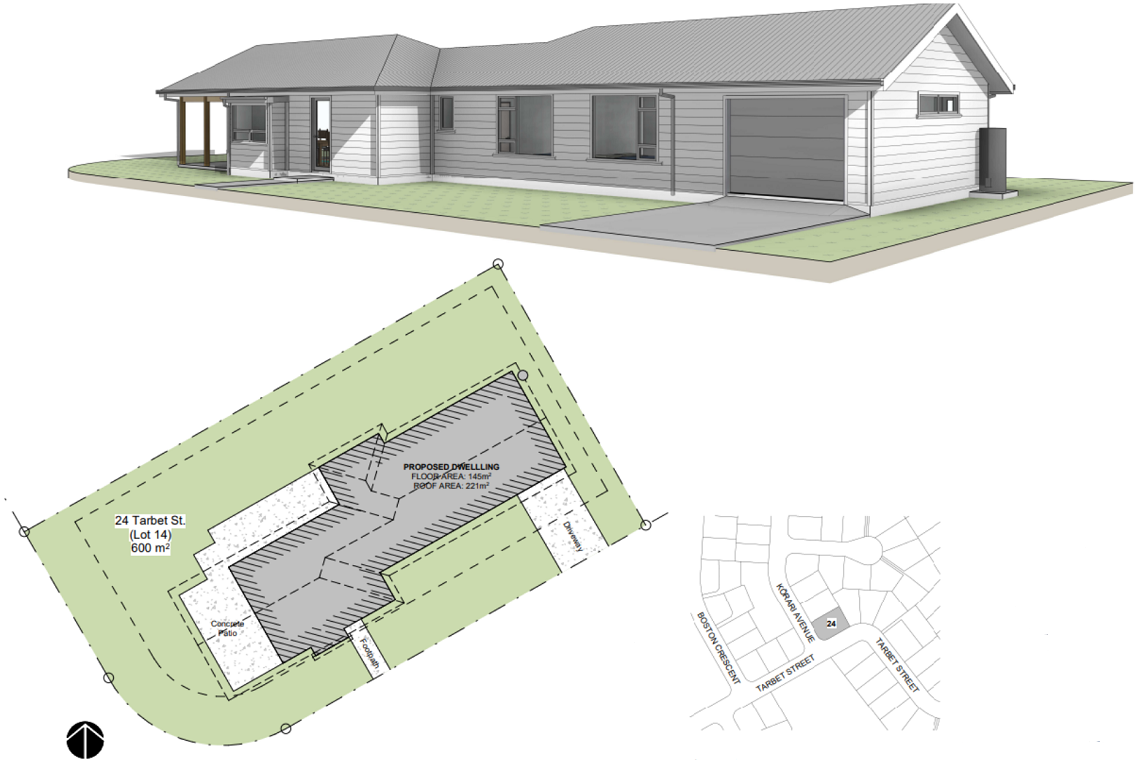 Property Features
145 metre square, 3 bedroom, 2 bathrooms, 1-car garage, grand corner location on a 600 m2 section.

Augmented Reality Link



(Lot 14) 24 Tarbet Street

, Flaxmere Village
Watch the Walk through Video for 24 Tarbet Street, Flaxmere.
Lot 14 is on a 600 metre squared corner section on the grand entrance into the Waingākau development. The home is 145m2, 3 bedroom, 2 bath property an with integral garage. You can see from the walk through linked above that this home has instant curb appeal, one of the key features framing the front profile of the property is a stunning portico. This will be an open end gable roof that extends onto a stained kiwila deck. Perfect for entertaining and enjoying the Hawkes Bay sunshine. The property is clad in horizontal linear weather board.
This property boasts a large open plan, kitchen, dining and living area towards the north of this commanding corner property. A built in window seat helps capture the suns rays and provides a unique perch for the street vista. This leads to the main access point of two stackable sliders to the kiwila deck and outdoor entertaining area. The kitchen is a well appointed gallery style with Fisher and Paykel Ceramic cook top extraction fan and single door oven. To complete this look a large breakfast bar with sink and work surface separates the spaces of this open plan family living zone.
Down the main hallway the first bedroom is the Master Bedroom with walk through fully appointed wardrobe and 2.5m x 1.6m Ensuite bathroom. The Master bedroom also boasts connectivity to the large kiwila deck through sliding doors out on to the north facing deck that wraps around this gorgeous property.
Across the hallway is bedroom two & three which are large double rooms at approximately 3.2m x 2.8m squared spaces with wardrobes. These rooms all include a unique feature of our development curtains which will be provided throughout the property. The Family Bathroom is across from this space and is a 2.5m x 2.0m room that will include a freestanding bath shower and Vanity. The Family toilet is separate by bedroom two located at the main entrance to the hallway.
The integral Garage laundry space is 6.5m x 3.6m room. This will be fully carpeted area with walls and ceilings fully insulated. It will also have a fully insulated main automatic door. This flexibility design feature is to allow the Whānau to use this space as they see fit, as a second living space or potentially a fourth bedroom. Another stand out feature is the external heat pump hot water cylinder to the rear of the property which is solar enabled and the cheapest and most cost effective way to heat water in New Zealand.